Welcome to Ace Manufacturing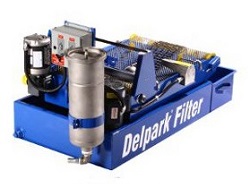 For nearly 20 years, ACE Manufacturing has been supplying its custom manufacturing and machining services to a wide variety of industrial sectors. Our commitment to high quality service and reliability has enabled us to achieve improvements and efficiencies for our customers. Their success is our success.

Under our flagship brand, Delpark Filters®, we offer a full line of liquid filtration equipment and technologies for industrial and commercial use. Custom designed solutions for industrial coolants, wastewater/effluent treatment and solids separation are engineered to provide you with the highest quality standards using the most cost effective treatment solutions available. Our use of innovative technologies and customer specific evaluations provide sustainable environmental solutions to meet and exceed the challenges of your process filtration requirements.
Our manufacturing and machining services primary focus is custom designed product solutions to meet your specific needs. Our capabilities include turnkey design, manufacturing, product integration and testing. Our specialties include valves and a creative engineering and mechanical ability which allows us to produce a "one of a kind" solution to meet your most demanding requirements.
Ace Core Services: